CombiSpin Veterinary Centrifuge
The Vetlab Multi-Combination Veterinary Centrifuge
SPECIAL OFFER – ONLY £699! – For a Limited Time Only, Saving £196!
The Vetlab CombiSpin has been ergonomically designed for centrifuging volumes of biological fluids of up to 2.0ml in volume and variable speeds up to 10,000rpm. The CombiSpin has important features which include a multi-combination rotor for haematocrits and microtubes; a brushless motor for quiet running; variable and programmed speeds and timings; and most importantly, automatic lid lock and braking.  Our CombiSpin is not only very intuitive, but also simple and safe to operate. Above all, with virtually no maintenance required, the CombiSpin veterinary centrifuge is ideally suited for busy practices and laboratories.
Multi-Combination Rotor – Lifetime Guarantee!
The Rotor Holds – 2ml Blood Tubes, 75mm Microhaematocrit Tubes & 1.5ml Microcentrifuge Tubes
The CombiSpin multi-combination rotor has been specially designed to hold blood and microcentrifuge tubes up to 2.0ml in volume and 75mm microhaematocrit capillary tubes for microhaematocrit/PCV assays, therefore avoiding the need to change rotors. Above all, the CombiSpin has a fixed angle rotor which will prevent your samples re-mixing if a non-gel tube has been used and there has been a delay in unloading.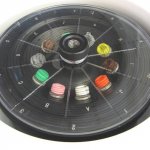 Pre-set Programs – Plasma/Serum, Haematocrits and Urine Sediments
The CombiSpin has three pre-set optimised programs available for spinning serum and plasma, haematocrits and urine sediments. Simply select the 'pre-set program' of your choice, remember to balance the tubes, and then press the start key. In addition, the programs can be altered for both speed and time in case a different setting is required for a special sample. Finally, there is an audible alarm which sounds when the cycle is complete and the automatic lid lock ensures the lid cannot be opened until the rotor has come to a complete stop.
The Vetlab CombiSpin Veterinary Centrifuge is supplied with:
ONE YEAR WARRANTY
FREE DELIVERY
FREE STARTER CONSUMABLES (listed below)
Premiere Tissues x 100 Pack
Sealant Tray
Plain 75mm Glass Microhaematocrit Tubes  x 100
Heparin 75mm Glass Microhaematocrit Tubes x 100
To see our Centrifuge Consumables follow this link
To see our Blood Collection Tubes follow this link 
CombiSpin Technical Specifications
'The CombiSpin Veterinary Centrifuge must be used on a stable flat work surface in a clean, dry, well-ventilated area'
Relative Humidity: ≤80%
Temperature Range in Use:+5°C to + 40°C
Power: AC220-230V 50/60HZ
Unit fuse:3A 230V
Power lead fuse: 5 AMP
Timer: 1-99 minutes variable digitally in increments of 1 minute
Max. Speed: 100rpm – 9999rpm variable digitally in increments of 100rpm
Max. RCF:9500xg
CombiSpin Rotor Volume: 10 x 2ml plastic tubes and 10 glass capillary tubes (75mm in length)
Rotor Capacity
3 Fixed programs
Serum/Plasma 9999 rpm 2 mins
PCV (Mhct) 9999 rpm 5 mins
Urine Sediment 1500 rpm 2 mins
CombiSpin Noise (at Max RPM):≤65dB (A)
CombiSpin Unit Dimensions: 310mm (L) 270mm (W) 210mm (H)
CombiSpin Net Weight: 9 kg
CombiSpin User Manual, Quick User Guide & Rotor Removal Instructions
CombiSpin Special Features
One multi-combination rotor which holds, 2ml blood tubes, 75mm haematocrit tubes & 1.5ml microcentrifuge tubes
Plastic blood /sample tubes are held at an angle which helps to protect the integrity of the precipitated sample if there is a delay in unloading
3 Pre-set fixed speed/timed programs: serum/plasma, haematocrit, and urine sediment can be quickly accessed at the press of key
Brushless motor for quiet running
Low maintenance
Automatic braking which reduces the cycle time
End of run audible alarm sounds when the rotor has stopped confirming that it is safe to open the lid
Automatic lid lock ensures the lid cannot be opened until the rotor has come to a complete stop
Four large durable suction pads/feet are fitted to ensure a tight grip and stability on the bench especially when running
How and Why to Balance Your Centrifuge
A reliable bench-top centrifuge is essential to many veterinary tests, diagnoses and sample handling procedures. Balancing your laboratory centrifuge before each and every operation is the simplest and most effective action you can take to prolong its life, performance, reliability and safety.
Why Balancing Your Laboratory Centrifuge Matters
However, these same g-forces also magnify any slight differences in the uneven distribution of weight around the rotor. Even a slight weight imbalance between samples will cause the centrifuge to vibrate, shake uncontrollably and, in extreme circumstances, even explode.
Running a high-speed centrifuge with an unevenly loaded rotor is the most common cause of centrifuges breaking down. Out of balance loading causes the moving parts to shake uncontrollably. At best, this means the motor and bearings wear out more quickly. At worst, it risks sudden and explosive failure of the motor or rotor, and serious injury to laboratory personnel.
How to Balance Your Centrifuge 
Click on the PDF below for a visual guide on how to balance your centrifuge 
| Cat No | Description | Price |
| --- | --- | --- |
| 4500 | CombiSpin Veterinary Centrifuge (including Rotor and Accessories) | £895.00 (ex VAT) |
| 4501 | CombiSpin Combination Rotor x 1 | £160.00 (ex VAT) |
| 4502 | CombiSpin 10mm Spanner x 1 | £3.75 (ex VAT) |
| 4503 | CombiSpin 5mm Allen Key x 1 | £3.75 (ex VAT) |
| 4504 | CombiSpin Rotor Gasket x 1 | £1.75 (ex VAT) |
| 4505 | CombiSpin Lid Cushion x 1 | £6.50 (ex VAT) |
| 4507 | CombiSpin 3 Amp Fuse x 1 | £0.50 (ex VAT) |
| 4508 | CombiSpin Rotor Cover x 1 | £38.00 (ex VAT) |
| 4510 | CombiSpin Rotor Removal Tool Set x 1 | £6.00 (ex VAT) |