Monocular Microscope with Digital Option
The Vetlab SP22 LED Monocular Microscope is the ideal starter microscope and has many features normally found on more expensive models, representing fantastic value for money.
It has turret-mounted, RMS standard Achromatic objectives, sub-stage condenser with Iris diaphragm and fully mechanical stage with drop down coaxial controls. Coaxial coarse and fine focus controls with focus stop together with built-in LED illumination make it suitable for the hobby user or amateur naturalist.
Worm Egg Counting – Using A McMaster Counting Chamber
The Vetlab SP22 will not accommodate a  McMaster counting chamber. For worm egg counting please see the Wedmore SP14 or our Premiere range of microscopes.
For Aquarium and Koi keepers it is ideal for fish disease identification and we can supply the SP22 with a Fish Disease Starter Kit for taking skin scrapes and gill swabs.
Fish Disease Diagnostic Kit
For those who already have a microscope, the diagnostic kit is also available as a separate item. The kit contains slides, coverslips, stains, mountants and everything needed to obtain skin scrapes and gill swabs, together with a booklet of instructions and full colour photographs of the most of the fish parasites that can be encountered.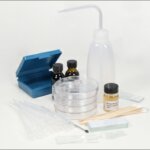 SP22D – With Built-in Digital Camera (out of stock)
This microscope has the same optical performance and mechanical build as the SP22 but incorporated in the head is a 1.3M pixel (1280 x 1024) CMOS chip digital camera. It shares the image with the eyepiece and is attached to a laptop or PC via a USB lead (included). The supplied Scopeimage software is suitable for Windows 7, 8 and 10 but not for Apple OS. Step by step instructions are provided.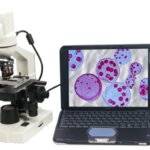 Vetlab SP22/22D Features:
Optical System: Finite
Viewing Head: Monocular, rotatable 360°
Eyepiece: Widefield 10x/18mm eyepieces
Nosepiece: Quadruple
Objectives: Finite Achromatic RMS standard objectives, 4x, 10x, 40x (S), 100x (S)(O)
Focus Controls: Coaxial coarse and fine focus controls. Tension adjustment on the focus mechanism. Focus Safety Stop.
Stage: Mechanical stage with spring clip single slide holder. Coaxial drop-down controls and double Vernier scales.
Condenser: Full sub-stage Abbe condenser (N.A. 1.2), with Iris Diaphragm and full rack and pinion height adjustment.
Light Source: Built-in LED light source, rheostat controlled.
Included: 2 Year Warranty, User Manual, mains power lead, spare fuse.
Optional Extras: Fish Disease Starter Kit, Aluminium Carrying Case. Other Accessories are also available. Please contact us with your requirements.