Histology Pots & Buckets
Empty Histology Pots and Buckets
(Tough & Leak-proof)
Vetlab supply a large range of histology consumables including large histology pots which are made of tough polypropylene and are supplied with strong plastic leak-proof lids. These pots have a wide-mouth and base, which makes them ideal for containing and transporting large tissue samples for histopathology. Not only do we supply large histology pots, but we also supply small and medium volumes. In addition, we also supply veterinary ID labels with your order, free of charge.
Clear Polypropylene with Green Tops

Our histology pots are particularly useful for allowing large tumours to be completely removed; then safely fixed and transported. A complete tumour allows the pathologist to provide a more accurate diagnosis and prognosis.
Histology Pots – Volumes and Specifications
Outside measurements are taken from the base to the top of the lid
20ml – Height 4.2 cm – Diameter 3.5cm
40ml – Height 4 cm – Diameter 5cm
60ml – Height 7.5cm – Diameter 5cm
120ml – Height 8cm – Diameter 5.5cm
250ml – Height 6cm – Diameter 9.5cm
500ml – Height 11cm – Diameter 9cm
1000ml – Height 14cm – Diameter 11cm
ALSO AVAILABLE: 5 Litre White Round Histology Bucket with Push Lid. Height 19.4cm – Diameter 23.6cm
These Specimen/Histology Buckets have a push lid, plastic handle and a tamper-evident security tab. The bucket will hold a total weight of 141.0g with a brimful capacity of 5700ml.  These buckets are ideal for collecting larger samples and can be easily stored as they are stackable. Finally, our Neutral Buffered Formalin 10% is available in 1 and 5-litre sizes.
Histology Tissue Preparation Kit – Great Value!
Surgical Scissors
Dissecting Needle
Medical Tweezers
Scalpel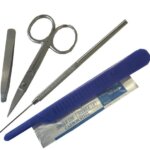 To see our range of Pre-filled Specimen Containers and Histology Pots 25ml to 120ml… follow this link
Fixing and Preserving for the Best Results
Fixing and preserving your tissue samples in histology pots using a 10% neutral buffered formaldehyde solution, is the safe and sure way to stabilise key cellular structures for subsequent processing, embedding, sectioning and staining ready for microscopic investigation.
The accuracy and reliability of the laboratory examination depend on successful fixation and preservation. For the best results, this must be accomplished as soon as possible after the sample is taken. An efficient fixative conserves the sample by stabilising proteins and other biological components, as well as protecting the sample from swelling or shrinking due to excessive gain or loss of water.
Ideally, the fixative also needs to prevent enzymes released by the lysis of damaged and dying tissue from further degrading cellular structures, and inhibit the formation of darkly coloured pigments that might obscure microscopic examination.
pH Neutral Phosphate Buffer -10%
Offering a safe and economic approach to handling the toxic nature of formalin and its limited shelf life, Vetlab's range of 1 and 5 Litre sizes contains a pH neutral phosphate buffer with a shelf-life of 2-3 years. Osmotically balanced to prevent cell lysis, the buffered solution reduces sample distortion and counters the build-up of coloured pigments, assuring the user of an optimal sample ready for a wide range of veterinary, laboratory and microscopy applications.
| Cat No | Description | Price |
| --- | --- | --- |
| 0170 | Histology Tissue Prep Kit. Scissors, Dissecting Needle, Tweezers, Scalpel. | £5.00 (ex VAT) |
| 0152 | Plain, 20ml Histology Pots x 20 | £3.30 (ex VAT) |
| 0153 | Plain, 40ml Histology Pots x 10 | £3.30 (ex VAT) |
| 0154 | Plain, 60ml Histology Pots x 10 | £3.85 (ex VAT) |
| 0156 | Plain, 120ml Histology Pots x 10 | £6.60 (ex VAT) |
| 0157 | Plain, 250ml Histology Pots x 10 | £11.00 (ex VAT) |
| 0150 | Plain, 500ml Histology Pots x 5 | £8.25 (ex VAT) |
| 0151 | Plain, 1000ml Histology Pots x 5 | £15.40 (ex VAT) |
| 0158 | Plain, 5 Litre Histology Bucket x 10 (White Top) | £22.00(ex VAT) |
| 0159 | Plain, 5 Litre Histology Bucket x 5 (White Top) | £13.00 (ex VAT) |
| Ready Made Neutral Buffered Formalin 10% | | |
| 0620 - 1 | Neutral Buffered Formalin 10% - 1 Litre | £8.80 (ex VAT) |
| 0620 - 5 | Neutral Buffered Formalin 10% - 5 Litre | £20.00(ex VAT) |