Description
Rapi-Diff & Other Ready-to-Use Stains and Reagents
We supply the very popular Rapi-Diff Stain Set along with the individual stains, A, B and C which can also be purchased separately from us. We also offer a selection of gram stain liquids which include: Acetone for use as a clearing agent, Giemsa, Leishman, Loffler's Methylene Blue and New Methylene Blue.
In addition, we also supply TB stains, Phosphate Buffered Saline pH 6.8 to support our Rapi-Diff 11 stain, Buffered Formalin, White Cell Counting Fluid and finally, the indispensable Potassium Hydroxide solution for the diagnosis of mites and ringworm in hair and skin samples. If there are any other particular stains that you cannot see in our price list, please let us know and we will do our very best to source them for you.
Rapi-Diff Stain 11 Stain Set
Our Rapi-Diff II Staining set which is useful for staining smears, especially blood smears is available in 2.5L, 1L, 500ml and 250ml sets or single solutions. This set is for the rapid differential evaluation of haematology and cytological smears and is directly comparable to DIFF-QUICK and the results are similar to Romanowsky stained smears.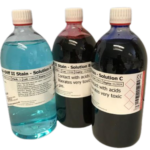 More Info