G9 Disinfectant, Cleaning & Hygiene Range
10% Off All G9 Products!
G9 Surface Disinfectant Cleaner
G9 High Level Surface Disinfectant Cleaner unique formula protects your animal environments whilst ensuring safety to staff and animals. This surface disinfectant provides the latest biocide technology to ensure unparalleled microbial efficacy in line with the latest ECHA European Veterinary Test Protocol Standards.
A Surface Disinfectant Cleaner which is extremely economical in use and dilutes at:
• 1:200 for General Use
• 1:100 for High-Risk Areas
G9 Surface Disinfectant Cleaner is tested to the latest ECHA European Veterinary Test Standards by Independent Accredited Test Laboratories against the following spores, mycobacteria, virus, fungi, yeasts and bacteria.
Please click below for the full Test Portfolio
G9-Surface Disinfectant Cleaner
More Info
G9 Hand Disinfectant Gel
G9 Alcohol Hand Disinfectant Gels are ideal for frequent use and protection in a busy Veterinary Practice or Laboratory.
All hand disinfectant gels are:
• Certified against MRSA
• Added moisturisers, which prevent dryness and irritation of the skin
• No sticky residue
Available in two easy-to-use on the go sizes: 50ml Tottle and 500ml Pump Action Bottle. 5L Refill is available.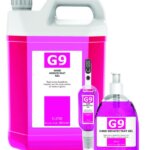 G9 Chlorhexidine Gluconate Scrub
Available in standard and "sensitive skin" varieties which are both ideal for routine handwashing. The standard scrub contains 4% Chlorhexidine Gluconate compared to the "sensitive skin" variety which contains 1% Chlorhexidine Gluconate.
Chlorhexidine Gluconate Scrub** is available in 5 litre and 500ml pump action bottles. (** sensitive skin is only available in 5-litre containers)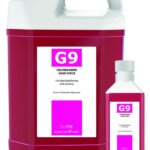 For full product information Click Below
Instrument Cleaner and Disinfectant
G9 Instrument Cleaners and Disinfectants are ideal for chemical cleaning and reprocessing of flexible and rigid endoscopes and surgical instruments.
Instrument Cleaner – 2L
Designed to remove proteinaceous and organic material by digesting and dissolving a variety of materials such as blood, mucus, faecal and vomital matter. Safely removing organic contaminations and proteinaceous soils, this cleaner will eliminate biological odours and is 100% biodegradable.
G9 Instrument cleaner is ideal for use in ultrasonic cleaning machines and as a manual soak solution. This cleaner is available in 2-litre self dosing containers.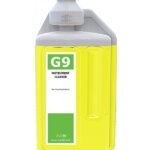 For full product information Click Below
Instrument Disinfectant – 2L
Combining proven microbiological results with safety and rapid activity the G9 instrument disinfectant can be used in an automated reprocessor machine or open tank troughs.
G9 Instrument Disinfectant contains no harmful chemicals such as Glutaraldehyde, Phenols, Chlorine or Peracetic Acid.
Application: Cold Soak Solution – Sterilisation Trough
Standards: BS EN 14476, BS EN 13727, BS EN14204, BS EN 13704, BS EN13624
Contact Times
Bacteria, Fungi, Mycobacteria and Spores – 15 minutes
The working solution will last up to 7 days.
This disinfectant is available in 2-litre self dosing containers.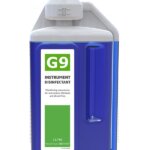 For full product information Click Below
G9 Pump Dispensers
Available for use with 5L and 500ml sizes
Empty 600ml Trigger Spray Bottles
Empty trigger sprays for use with 5L Surface Disinfectant Cleaners. Screen printed.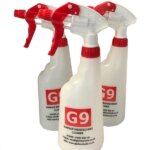 G9 High-Level Disinfectant Wipes
Alcohol-free disinfectant surface wipes containing detergent ideal for any practice to use. Quick clean surface disinfection of non-invasive medical devices. 200 wipes per drum, these 200 x 200mm wipes come in an airtight plastic pouch for sterilisation and hygiene.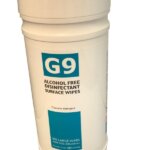 | Cat No | Description | Price |
| --- | --- | --- |
| | On Offer! | Take 10% Off! |
| 9003-UF | G9 High Level Surface Cleaner, Concentrate 1 x 5L | £28.53 (ex VAT) |
| 9003-CH | G9 High Level Surface Cleaner, Concentrate 1 x 5L CHERRY | £28.53 (ex VAT) |
| 9003-LE | G9 High Level Surface Cleaner, Concentrate 1 x 5L LEMON | £28.53 (ex VAT) |
| 9004 | G9 Ready To Use Trigger Spray - 750ml | £3.45 (ex VAT) |
| 9005 | Empty Trigger Spray Bottle - 600ml | £2.89 (ex VAT) |
| 9006 | G9 Chlorhexidine Hand Scrub 1 x 500ml | £4.10 (ex VAT) |
| 9007 | G9 Chlorhexidine Hand Scrub 1 x 5L REFILL | £26.98 (ex VAT) |
| 9009 | G9 Alcohol Hand Gel 1 x 5L REFILL | £30.52 (ex VAT) |
| 9010 | G9 Alcohol Hand Gel 1 x 500ml | £6.09 (ex VAT) |
| 9011 | G9 Alcohol Hand Gel (tottle) 1 x 50ml | £2.98 (ex VAT) |
| 9012 | G9 High Level Disinfectant Wipes 200 x 200mm x 200 | £12.85 (ex VAT) |
| 9013 | G9 Instrument Disinfectant Concentrate 2L – Self Dosing | £31.50 (ex VAT) |
| 9014 | G9 Enzymatic Instrument Cleaner 2 Litre – Self Dosing | £31.50 (ex VAT) |
| 9015 | G9 500ml Pump Dispenser x 1 | £2.20 (ex VAT) |
| 9016 | G9 5L Pump Dispenser x 1 | £3.24 (ex VAT) |