General Laboratory Consumables
Laboratory Consumables
The Vetlab range of general laboratory consumables includes biohazard bags, lint-free tissues and other day-to-day laboratory essentials. Above all, if there are any products that are not shown on our price list, we will do our very best to source them for you.
Biohazard Specimen Bags
Firstly, each Biohazard Bag is printed with the biohazard symbol and has a separate document pouch for documentation related to the sample, keeping it safe and easily accessible without having to open the pouch where the specimen is stored. Lastly, our biohazard specimen bags are high-quality resealable bags which are made from strong 200gsm polyethylene materials and as a result, they are designed for safe transportation of specimens along with their documentation.
Size = 6 x 5.5 + 8 inches
Biopsy Cassettes
These high-density acetal polymer biopsy cassettes are specially designed to hold the smallest biopsy specimens for processing, embedding and storage. The cassettes are made of acid and solvent resistant plastic. They have a stay-shut closure lid design and can be used without the need for foam or lens paper. In addition, they are supplied in small pack sizes of 10 or larger packs of 50.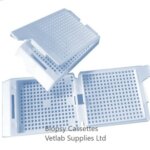 More Info
| Cat No | Description | Price |
| --- | --- | --- |
| 0684 | Biohazard specimen bags x100 | £6.75 (ex VAT) |
| 0165-10 | Biopsy Cassettes x 10 | £2.50 (ex VAT) |
| 0165-50 | Biopsy Cassettes x 50 | £10.00 (ex VAT) |
| 0166-100 | CellSafe Biopsy Capsule x 100 | £50.00 (ex VAT) |
| 6605-500 | Culture Loops, Sterile, Disposable 1µl x 500 | £20.00 (ex VAT) |
| 6605-1000 | Culture Loops, Sterile, Disposable 1µl x 1000 | £40.00 (ex VAT) |
| 6606-500 | Culture Loops, Sterile, Disposable 10µl x 500 | £20.00 (ex VAT) |
| 6606-1000 | Culture Loops, Sterile, Disposable 10µl x 1000 | £40.00 (ex VAT) |
| 6604 | Disposable Weigh Boats, Small Plastic Bowls x 10 | £2.20 (ex VAT) |
| 1451-10 | Dropper bottle 15ml screw cap x 10 | £12.50 (ex VAT) |
| 1451 | Dropper bottle 15ml screw cap x 1 | £1.40 (ex VAT) |
| 5015 | Kimberley Clark lint free tissues x 80/box | £5.50 (ex VAT) |
| 0523 | Measuring/Mixing Cylinder 50ml with 1ml Blue Graduations x 1 | £6.50 (ex VAT) |
| 0780 | Test Tubes, plastic 63 x 11mm x 1000 | £55.00 (ex VAT) |
| 0781 | Test Tubes, plastic 63 x 11mm, x 100 | £7.50 (ex VAT) |
| 1810 | Vet-Tube rack (32 holes) x 1 | £20.00 (ex VAT) |
| 1450 | Wash bottle 250ml x 1 | £6.00 (ex VAT) |
| 1308 | Wooden Applicator /Mixing Sticks x Box of 1000 | £12.00 (ex VAT) |