Description
Centrifuge Consumables and Accessories
75mm & 40mm Cristaseal Capillary Tubes – Glass
Microhaematocrit (Mhct) or Packed Cell Volume (PCV) tests require the use of good quality capillary tubes manufactured with good quality glass. Capillary tubes are either plain or pre-coated with heparin, and are commonly used to extract small blood samples directly from the vein by using a lancet.
Our centrifuge consumables range includes both 40mm and 75mm capillary tubes. This type of tube is not only used for Packed Cell Volume tests, but also the extremely useful function of transporting small volumes of sample to other devices, such as microscope slides for making blood smears and Petri dishes for other tests.
Why Is The Quality Of Capillary Tubes So Important?
It is very important that capillary tubes are manufactured correctly using good quality material with a consistent bore diameter. Furthermore, the thickness of the wall must not only be strong enough to withstand centrifugal G-forces of up to 10,000 RMP but also thin enough to allow easy viewing of the reading. Finally, a good quality capillary tube should not break when pushed down into the sealant tray, and neither should the sealant plug become detached from the tube. See our Top Tips below.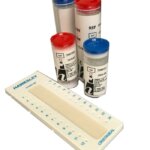 Other Centrifuge Consumables 
The length of your cristaseal capillary tubes will depend on the make of your centrifuge. We supply a Superior Glass brand of 75mm capillary tubes which fit our VetSpin Duo centrifuge as well as other standard size centrifuges such as Hawksley and Centurion. Our Superior 40mm capillary tubes fit our VetSpin Micro range of benchtop mini centrifuges as well as the StatSpin VT. Our full range of centrifuge consumables and accessories includes quality sealant trays; microcentrifuge tubes, blood collection tubes; readers and our popular Vet-Tube racks (available in a range of bright colours) to hold your samples.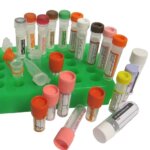 For Blood Collection Tubes… follow this link
To See Our Range Of Centrifuges… follow this link