Vetlab Refractometer
Veterinary Refractometer
The Vetlab veterinary refractometer is a lightweight, hand-held diagnostic instrument designed for fast, simple and inexpensive measurement of Serum/Plasma Protein and Urine Specific Gravity on samples from animals. This refractometer has a good quality, robust build and comfortable design, which ensures that it will give you many years of valuable, low-cost diagnostic testing.
Special Features
Importantly, this veterinary refractometer features temperature compensation calibration using a special adjustment screw to zero on distilled water at ambient temperature.
In addition, the Vetlab Refractometer has a large rubber eyepiece for comfort and focusing, a rubber hand grip end with three scales: covering the whole barrel for easy handling. It also features a high quality blue coloured prism engraved with three scales: For Serum Protein / Specific Gravity / Refractive Index and an integral sample cover lid.
More Info
How to use a veterinary refractometer
Instructions for Use
Calibration
Open the sample cover lid and add 2-3 drops of distilled water at 20◦c on the main prism. Close lid.
Allow the water to adjust to room temperature for 60 seconds. Hold the prism towards a light source and look into the eyepiece. Focus (by turning the eyepieces) onto the three scales. You will see an upper blue section and a lower white section. Take a reading at the boundary line where they meet. Turn the calibration screw, whilst viewing, until the boundary lines align with the '1.000' mark. This now completes the calibration which from now on will be adjusted for both Specific Gravity and Protein Scales to compensate for the ambient temperature (10◦c – 30◦c).
Reading Sample
Follow the steps above using the sample and read off the result where the boundary aligns on the appropriate scale. (Protein = Left hand scale S.G = Right hand scale)
Daylight Plate (Spare Part)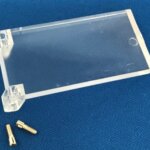 Click on the download below and follow these simple instructions on how to replace the daylight plate
| Cat No | Description | Price |
| --- | --- | --- |
| 1841 | Refractometer RHCN-200ATC | £39.00 (ex VAT) |
| 1845 | Refractometer Spare Daylight Plate x 1 | £8.50 (ex VAT) |