Description
Multi-Combination Rotor – Lifetime Guarantee!
The VetSpin Duo has been ergonomically designed for centrifuging volumes of biological fluids of up to 2.0ml in volume and variable speeds up to 10,000rpm.
This centrifuge has important features which include a multi-combination rotor for haematocrits and microtubes. It has a brushless motor for quiet running,  variable and programmed speeds and timings, and most importantly, automatic lid lock and braking.
Ideal for Busy Practices
Our centrifuge is not only very intuitive but also simple and safe to operate. Above all, with virtually no maintenance required, the VetSpin Duo veterinary centrifuge is ideally suited for busy practices and laboratories.
The Rotor Holds – 2ml Blood Tubes, 75mm Microhaematocrit Tubes & 1.5ml Microcentrifuge Tubes
This multi-combination rotor has been specially designed to hold blood and microcentrifuge tubes up to 2.0ml in volume and 75mm microhaematocrit capillary tubes for microhaematocrit/PCV assays, therefore avoiding the need to change rotors. Above all, it has a fixed angle rotor which will prevent your samples re-mixing if a non-gel tube has been used and there has been a delay in unloading.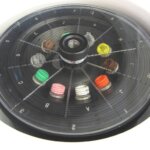 Pre-set Programs – Plasma/Serum, Haematocrits and Urine Sediments
This easy to use centrifuge has three pre-set optimised programs available for spinning serum and plasma, haematocrits and urine sediments. Simply select the 'pre-set program' of your choice, remember to balance the tubes, and then press the start key. Additionally, the programs can be altered for both speed and time in case a different setting is required for a special sample. Finally, there is an audible alarm which sounds when the cycle is complete and the automatic lid lock ensures the lid cannot be opened until the rotor has come to a complete stop.
The VetSpin Duo Veterinary Centrifuge is supplied with:
TWO YEAR WARRANTY
FREE STARTER CONSUMABLES (listed below)
Sealant Tray
Plain 75mm Glass Microhaematocrit Tubes  x 100
Heparin 75mm Glass Microhaematocrit Tubes x 100
Available To Purchase, 75mm Reader for Haematocrit Measurements
Hawksley Reader for 75mm Capillary Tubes
To see our Centrifuge Consumables follow this link
To see our Blood Collection Tubes follow this link