Description
Improved Neubauer Counting Chamber
Haemocytometer Counting Chamber
Essentially used for counting blood cells, the Haemocytometer counting chamber is required for the microscopic manual cell counting of, erythrocytes (RBC, red blood cells), leukocytes (WBC, white blood cells), thrombocytes (PLT, platelets) and also sperm counts. Our Improved Neubauer counting chambers are manufactured to the highest standard in a piece of thermal and shock-resistant glass.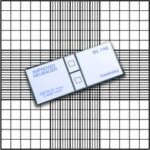 Haemocytometer Description
An H-shaped moat forms either one or two counting areas, or plateaus. Each plateau features an etched grid or ruling. The ruled surface is either 0.1mm or 0.2mm below the cover glass, limiting the Volume of 1 Square mm of blood or fluid over a square mm at 0.1cu.mm or 0.2cu.mm respectively.
More Info