Description
Pre-filled Histology Pots
(10% Neutral Buffered Formalin)
Vetlab's pre-filled histology biopsy pots are made from impact-resistant polypropylene, giving you a safe and convenient solution for preserving and transporting critical tissue samples.
Because tissue samples begin to deteriorate as soon as they're separated from their blood supply, it's vital that fixation and preservation of internal microscopic structures happen immediately after the sample is removed, whatever its size.
Our histology containers are easy to open, seal and label even with wet, gloved hands. Vetlab's range of wide-mouthed pre-filled histology specimen containers maintains your tissue samples in the best possible condition; physically, chemically and biologically ready for laboratory examination.
Histology Tissue Preparation Kit – Great Value!
Surgical Scissors
Dissecting Needle
Medical Tweezers
Scalpel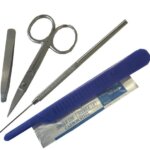 Fixing and Preserving Samples for the Best Results
Fixing and preserving your tissue samples in pre-filled histology pots with a 10% neutral buffered formaldehyde solution is the safe and sure way to stabilise key cellular structures for subsequent processing, embedding, sectioning and staining ready for microscopic investigation.
More Info