Description
For The Detection Of Parvovirus Antigens
Test applicable to: Dog, Cat and Mink
Sample: Faeces
FASTest PARVO Card is a rapid immunochromatographic "lateral flow" test for the detection of antigen to Canine Parvovirus antigen in the faeces of dogs, cats and mink. Parvovirus infection is a common cause of canine infectious enteritis. It is highly contagious. Therefore, a rapid and reliable diagnosis via in-house tests is important in a clinical setting. The precise diagnosis of a CPV infection enables the veterinarian to apply immediate treatment and to introduce quarantine measures for infected animals.
Prevalence of Canine Parvovirus
Although vaccination has greatly reduced the prevalence of Parvo CPV2 infection in the U.K., the recent economic recession has led to a reduction in vaccinations and an increase in CPV2 outbreaks. Maternal antibody is also causing a problem by the neutralising vaccine in puppies and allowing a window of opportunity for infection in-between vaccinations. It is therefore vital for every veterinary practice to be on its guard and have the capability to quickly confirm CPV2 infections. FASTest Parvo Card allows veterinary practices to do this quickly and easily.
FASTest Parvo Card Product Information – PDF Download
FASTest Parvo Strip Product Information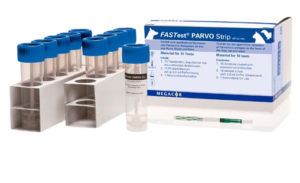 You may also be interested in FASTest CPV Ab, follow this link