Description
Buccal Mucosal Bleeding Time Device
Test applicable to: Dog 
Sample: Whole Blood
BMBT -Vet. Dog (Previously Surgicutt Vet H (dog) ) is a useful in-clinic screening device for the identification of thrombocytic and vascular bleeding disorders in dogs by measuring the Buccal Mucosal Bleeding Time.
BMBT-Vet. Dog enables the veterinarian to make a standardised incision (white lancet -1.0mm deep and 3.0mm long) in 1/1000 second, based on an easy-to-use and simple incision lancet technique.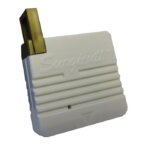 After the planar placing on the mucosa, the nearly painless incision is made automatically by simply pushing the trigger. Due to the automatic retraction of the steel blade after setting the incision, there is no possibility of injury to either the animal or the vet.
The BMBT (Buccal Mucosal Bleeding Time) is the time that passes once an incision has been made with the use of BMBT-Vet. Dog until haemostasis is present.