Description
Monocular Biological LED Microscope
Ideal for Diagnostic and Teaching Applications
This model is an ideal microscope for anyone wanting to start performing a few procedures occasionally e.g.worm egg counts, intestinal parasite ova/oocyst detection, skin / hair parasites.  So, it is ideal for livestock owners and the small veterinary practice or even for basic teaching. Having said this, it is perfectly capable of performing many other procedures although, for ergonomic reasons, its size may limit its use. Our Premiere 100 also has a place as a second microscope to be used for 'messy' procedures such as those mentioned above which involve the use of corrosive liquids.
The Premiere 100 represents incredible value for money. It has a wide range of features commonly found in more expensive brands. However, of particular note is the incredible power of its LED light source; its Abbe condenser the height of which is fully adjustable (an essential feature for correct focusing but rarely found in a microscope of this low price); the quality and parfocality of its full range of objectives; an extra 16X eyepiece is provided to double the range of magnification and its low positioned focus and stage controls enhancing the operator's ability to move the specimen and view it at the same time. In addition, there is an option to upgrade to a special eyepiece with a wider 20mm field of view to enhance viewing experience.
The Vetlab Premiere 100 is supplied with a free starter pack of consumables and a 1 year warranty
It can be purchased individually or in one of our Parasitology Starter Kits, either with a McMaster Slide or OvaTube.
[/read-more]
Powerful LED Illumination
New innovative techniques for creating white light with an LED source have resulted in a completely new and unique path in imaging. The use of this light source in LED microscopy means firstly, by optimising the image this way, much more detail of the sample can immediately be seen, and secondly, the heat emission levels are kept very low.
The powerful LED illumination gives perfect image quality which provides up to 50,000 hours of use. The 1W LED provides an excellent source of bright white light which is perfect for microscopy image quality and photography.
Microscopy Applications
Parasitology
Worm egg counts (Mcmaster Counting Slide)
Worm egg detection (OvaTube)
Skin/hair examinations (dermatophytes, ectoparasites) (MykodermoAssay DTM and MykodermoAssay TRIO)
Rapi-Diff stained blood smears (differential WBC counts) (Rapi-Diff Stain Set)
Urine sediments
RBC counts (manual)
WBC counts (manual)
Gram-stained smears (bacteria)
Other stained smears
Consumable Starter Pack and Warranty
As with all our Vetlab Premiere Microscopes, a starter pack is provided including a user manual, spare fuse, immersion oil, lens tissues, microscope slides, coverslips and dust cover.
User Manual
Power Lead
FREE: Spare Fuse
FREE: Microscope Slides
FREE: Coverslips
FREE: Lens Tissues
FREE: Immersion Oil
FREE: Dust Cover
The Inexpensive Solution To Microscope Photography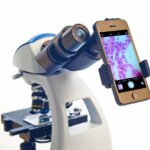 Why not add the InSight™ photographic and video smartphone adapter to your microscope? The smartphone camera can then capture photos and videos for uploading, sharing, as well as real time viewing. The InSight™ microscope eyepiece adapter for smartphones offers an excellent and inexpensive solution to microscope photography without the need to purchase a more expensive microscope. For Further Information Follow This Link
The Vetlab Premiere 100 is supplied with a 1-Year Warranty and is CE Certified.
(See Warranty Terms & Conditions)
All Prices Exclude VAT
To see our Microscope Consumables… follow this link