The Vetlab SP21 LED Microscope
Fish Disease Identification Microscope
In microscopy terms the microscopic identification of fish parasites is not an exacting requirement. It is of course possible to spend much more on a microscope. However, if your objective is to have a microscope that you will only use from time to time to keep your fish clean and free from parasites, then you need spend no more than the purchase price of our Vetlab SP21 fish disease identification microscope.
Technical specification
Firstly, the SP21 has many features that are normally found on microscopes of a much higher price. The optical parts are made from achromatic corrected glass and are standard Royal Microscopical Society (RMS) size. Further more, the monocular head rotates through 360° and lastly, it has a widefield x10 good quality eyepiece plus, an additional widefield x20 eyepiece.
Achromatic RMS Standard Objectives
The rotating turret is equipped with x4, x10, and x40 achromatic RMS objectives, which when used with the x10 and x20 eyepieces gives a magnification range of x40 to x800. This is ideal for fish parasites that commonly need magnifications of x10 and x400. The x40 objective has a spring loaded front lens element that retracts the lens into the objective on contact with the slide. In addition, the stage has a safety stop with a similar purpose.
Mechanical Stage With Drop Down Coaxial Controls
The slide platform is a full mechanical stage. This platform has drop down coaxial controls that makes fine movement of the stage in the required direction very easy. Above all, the double vernier scale also allows position identification on the slide.
Simple To Use With Illustrated Instructions Included
The focus system is also coaxial with the coarse and fine focus being ideally placed in a low position towards the back of the microscope body. The focus control moves the stage up and down to achieve focus. Beneath the stage is a fully focusable substage condenser with iris diaphragm. This is used to focus the illuminating light in the plane of the specimen, with the iris helping to provide clarity of specimen detail. It may sound complicated, but it is very simple to use in practice and fully illustrated instructions are included.
LED Illumination
The SP21 base has built-in LED illumination with rheostat control that allows the intensity of the lighting to be adjusted to suit the magnification in use.
Vetlab SP21 Features
Optical System: Finite
Viewing Head: Monocular, rotatable 360°
Eyepiece: Widefield 10x/18mm eyepiece plus 20x/18mm eyepiece
Nosepiece: Triple
Objectives: Finite Achromatic RMS standard objectives, 4x, 10x, 40x (S)
Focus Controls: Coaxial coarse and fine focus controls. Tension adjustment on the focus mechanism. Focus Safety Stop.
Stage: Mechanical stage with spring clip single slide holder. Coaxial drop down controls and double Vernier scales.
Condenser: Full sub-stage Abbe condenser (N.A. 1.2), with Iris Diaphragm and full rack and pinion height adjustment.
Light Source: Built-in LED light source, rheostat controlled.
Included: 2 Year Warranty, User Manual, mains power lead, spare fuse.
Optional Extras: Aluminium Carrying Case. Other Accessories are also available. Please contact us with your requirements.
Aluminium Carrying Case
There is an aluminium case available to purchase as an accessory but more importantly,  the SP21 Microscope is supplied with a diagnostic kit that includes; microscope slides, microscope coverslips and some simple stains along with everything needed to get started with skin scrapes and gill swabs. Further more, this fish disease identification kit also includes full detailed instructions with pictures of what to look for.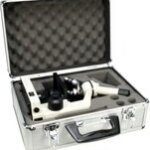 Fish Disease Identification Kit
For those who already have a microscope, the diagnostic kit is also available as a separate item. The kit contains microscope slides, microscope coverslips, stains, mountants and everything needed to obtain skin scrapes and gill swabs, together with a booklet of instructions and full colour photographs of the most of the fish parasites that can be encountered.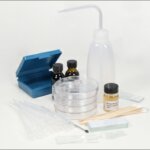 Worm Egg Counting – Using A McMaster Counting Chamber
The Vetlab SP21 will not accommodate a  McMaster counting chamber. For worm egg counting please see the Wedmore SP14 or our Premiere range of microscopes.
To see our microscope consumables…follow this link
| Cat No | Description | Price |
| --- | --- | --- |
| 1960 | Vetlab SP21 LED Microscope + Fish Disease ID Kit | £134.00 (Ex VAT) |
| 1954 | Fish Disease ID Kit | £26.25 (Ex VAT) |
| 1956 | SP22/21 Aluminium Carrying Case | £36.75 (Ex VAT) |