Description
Portable Scales at Great Prices
The Compass™CR and CX Ranges
The Compass™ CR Series
The Compass CR series of portable laboratory scales deliver basic weighing functionality, excellent performance and above all, are available at a very reasonable price. Features such as a slim, stackable design, and an enlarged weighing platform, definitely make the CR range perfect for a variety of portable weighing applications.
Standard Features:
Basic Weighing Scales at a Competitive Price
This range of scales is designed for basic weighing and is particularly suited for use in laboratories, classrooms and offices.
Space-Saving Stackable Design for Convenient Storage
Specially designed for convenient storage, its slim, space-saving design allows users to stack up to 4 scales, as a result, saving valuable storage space when the scale is not in use.
Enlarged Weighing Platform Allows for Versatile Use
With an enlarged weighing platform, the Compass CR series of portable balances can adequately manage a wide range of sample sizes.  Consequently, you will only need one balance on your bench for basic weighing with this range of scales.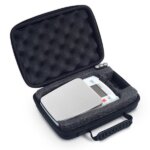 Batteries Included
( 3 AA) 300 Hours Of Battery Life
Optional Adaptor 5V Available
Two Year Warranty
Click Below To Download Full Technical Information
Compass CR Series Information Sheet
Click More Info below to see our CX Range
More Info