The Vetlab Premiere 250
Veterinary Laboratory LED Microscope
Ideal for Diagnostic and Teaching Applications
The Vetlab Premiere 250 veterinary LED microscope, has a superb ergonomic design and innovative features. These features make it the perfect choice for routine diagnostic examinations in all veterinary and medical laboratories as well as pharmaceutical research.
The Premiere 250 professional microscope is supplied with a binocular head. This LED microscope comes with a 3-Year Warranty, is available on Seven Day Sale or Return and represents fantastic value for money at only £345.00!
Perfect for Microscopy Imaging  
New innovative techniques for creating white light with an LED source have resulted in a completely new and unique path in imaging. The use of this light source in LED microscopy means firstly, by optimising the image this way, much more detail of the sample can immediately be seen, and secondly, the heat emission levels are kept very low.
Powerful LED Illumination
The powerful LED illumination gives perfect image quality which provides up to 50,000 hours of use. The 3W light source is one of the most powerful available and provides an excellent source of bright white light which is perfect for microscopy image quality and photography. Bringing all the advantages of LED technology, as well as a comfortable viewing position during long periods of microscopy examinations, this microscope will stand the test of time in any laboratory.
Cutting-edge Design – Available with a Binocular Head
With its stylish, cutting-edge design, this professional LED microscope will not fail to impress, with the superb quality of its images, as well as its ease of use. In addition to its powerful LED light source, there are four Achromat objectives fitted as standard: 4X, 10X, 40X and 100X, which are all spring-loaded. Finally, it has a mechanical stage – and height – adjustable Abbe condenser.
The Inexpensive Solution To Microscope Photography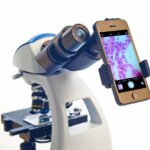 Why not add the InSight™ photographic and video smartphone adapter to your microscope? The smartphone camera can then capture photos and videos for uploading, sharing, as well as real time viewing. The InSight™ microscope eyepiece adapter for smartphones offers an excellent and inexpensive solution to microscope photography without the need to purchase a more expensive microscope. For Further Information Follow This Link
Microscopy Applications
Parasitology
Worm egg counts (Mcmaster Counting Slide)
Worm egg detection (OvaTube)
Skin/hair examinations (dermatophytes, ectoparasites) (MykodermoAssay DTM and MykodermoAssay TRIO)
Rapi-Diff stained blood smears (differential WBC counts) (Rapi-Diff Stain Set)
Urine sediments
RBC counts (manual)
WBC counts (manual)
Gram-stained smears (bacteria)
Other stained smears
Microscope Accessories Available
A 60X Dry Achromat Objective is available, which is very useful for examining Rapi-Diff stained blood smears for differential WBC counts without the need for immersion oil. This saves time and eliminates the danger of immersion oil contaminating objectives.
Consumable Starter Pack and Warranty
As with all our Vetlab Premiere Microscopes, a starter pack is provided including a user manual, spare fuse, immersion oil, lens tissues, microscope slides, coverslips and dust cover.
User Manual
Power Lead
FREE: Spare Fuse
FREE: Microscope Slides
FREE: Coverslips
FREE: Lens Tissues
FREE: Immersion Oil
FREE: Dust Cover
FREE: Delivery
The Vetlab Premiere 250 is supplied with a 3-Year Warranty and is CE Certified.
(See Warranty Terms & Conditions)
All Prices Exclude VAT
To see our Microscope Consumables… follow this link

Technical Specifications – Premiere 250 LED Veterinary Microscope 
Optical System: Finite 160mm.
Viewing Head: Binocular (Siedentopf type).
Inclined 30°, rotatable 360°.
Interpupillary distance 48mm – 75mm.
Diopters on each eyepiece aperture.
Eyepieces: Pair WF 10x/18mm eyepieces.
Nosepiece: Quadruple.
Objectives: Finite Achromat 4X, 10X, 40X (S), 100X (S)(O). Parfocal mounted towards the operator (convenient for cleaning lenses).
Focus Controls: Coaxial coarse and fine focus controls, coarse travel range 36mm; Fine division 0.002mm, built-in focus/rack stop, tension control.
Stage: Double layer mechanical stage 142mm x 132mm, moving area 75mm x 50mm, spring clip single slide holder.
Condenser: Abbe condenser N.A. 1.25, Iris diaphragm and filter holder, centring adjustment screws, rack and pinion height adjustment.
Light Source: Built-in, LED 3W, On/Off and variable intensity switches.
Optional Extras:
60X Dry Achromat Objective
Premiere 250 Data Sheet
Microscope Seven Day Sale or Return Form
Vetlab Supplies Ltd is pleased to supply microscopes on a sale or return basis, in order for you to assess the product at your leisure without the financial commitment. We will send the microscope to you for trial at our cost.
Microscope Sale or Return Terms & Conditions
Please read the Terms & Conditions before filling out the form below. 
| Cat No | Description | Price |
| --- | --- | --- |
| 1942 | Vetlab Premiere 250 LED Veterinary Binocular Microscope | £345.00 (ex VAT) |
| | | |