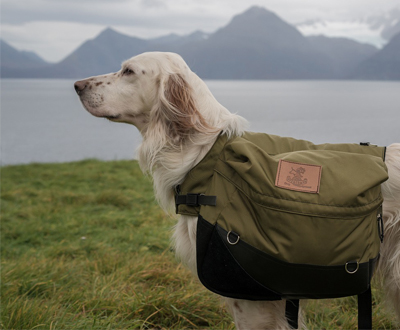 Selected, trained and accredited, working dogs have achieved – and even deserve, professional status. With private medical care, the equivalent of staff associations and even a retirement plan, some canine professionals seem to have better career prospects than their human equivalents.
Perhaps the best known 'professional' role for dogs is the Guide Dog. Providing invaluable, dedicated assistance to thousands in the UK and as many as two million worldwide, the Guide Dog or 'Seeing Dog' may have the ultimate career dog. Selected for training while still a pup, apprenticed, accredited and comfortably retired, it is a profession with a high failure rate of dogs that just don't make the grade.
Hearing Dogs provide a parallel service to Guide Dogs
White-collar opportunities have opened up for a wide range of Assistance and Helper Dogs. Hearing Dogs provide a parallel service to Guide Dogs, while an increasing number of Therapy Dogs are entering the medical and healthcare professions.
Finding roles in hospitals, care homes, schools prisons and other institutions, Therapy Dogs provide comfort to people struggling with loneliness, anxiety and disorders such as autism. Specialist teams are working with 'Dr Dogs' whose keen olfactory senses may help with diagnostics ranging from diabetes to prostate cancer.
Selected by breeding and lineage over many generations
In the blue-collar world of technically skilled work, there have always been niche roles for dogs in agriculture and security. Selected by breeding and lineage over many generations, Herding Dogs are, perhaps, the aristocracy of the working-dog world. And until the rise of the more media-savvy Agility Dog, Herding Dogs were the only canines to publicly compete against each other for honours and trophies.
Since 1899 and the first properly organised training programme in Ghent, Belgium, the Police Dog has always been the ultimate profession for action dogs. But in recent times, the warrant-carrying canines have been eclipsed somewhat by new dare-devil dog roles including Mountain Rescue Dogs, Firefighter Dogs, Drugs Dogs and the ultimate courageous canines, Mine Clearing Dogs.
Just like the changing world of human work, who can predict what future job opportunities might open up for tomorrow's professional dogs. A return to space travel, following in the rocket-assisted paw prints of Russia's cosmonaut dogs, maybe. But hopefully with happier consequences.
But if they could speak… honestly, most dogs would just prefer to be someone's loved companion with a warm home, a balanced diet and regular exercise. Just this, and the promise of veterinary care backed up by a well supplied and resourced veterinary laboratory. Safe from flea and tick-borne diseases, parvovirus, fungal infections and internal parasites, what more could even the most ambitious professional dog really want? Well, your place on the sofa of course.