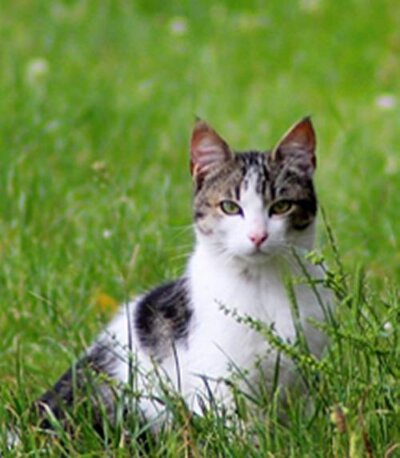 Cats are uniquely exempt from most of the ownership laws relating to dogs and other domestic animals. But when it comes to micro-chipping, should they be subject the same laws as dogs?
Under the 1968 Theft Act, cats are treated like any other item of owned property. So if you adopt a 'stray' that wanders into your kitchen or even buy an expensive pedigree that turns out to be stolen, then no matter how much you paid in cash or compassion, it's still the property of the original owner.
150,000 footloose felines going through rescue centres every year
That's why, with up to 150,000 footloose felines going through rescue and re-homing centres every year, it's vital to know whether a cat is truly abandoned and unwanted, or merely absent without leave from a devoted owner.
Microchipping for dogs in England, Scotland and Wales became compulsory in April 2016. Puppies more than 8 weeks old must be microchipped and registered with an approved microchip database before going on to their new homes. Rescue dogs too must be microchipped then registered to their new owners.
Microchipping database managed by the Kennel Club
Prior to compulsory microchipping for dogs, Petlog, a microchipping database managed by the Kennel Club, ran a 10-year project to test its effectiveness. Petlog reported that of more than 60,000 missing dogs and over 100,000 cats, 75% of dogs and 45% of cats have reunited with their owners all thanks to their microchip.
The microchip itself is a little smaller than a grain of rice. Implanting the chip under the skin between the shoulder blades, using a specialised hypodermic, is no more discomforting than a routine injection.
Every microchip is programmed with a unique reference number. When a hand-held scanner is passed over the chip, it signals its unique number back to the scanner. Cross-referencing the number to the database identifies the pet and their owner.
Talk to your vet about microchipping
So if you want your perambulating puss to find the way home, talk to your vet about microchipping on your next visit for treatment, vaccination, routine check-up and the essential FeLV-FIV diagnostic test.
With more than 90% of dogs now chipped, says the PDSA, the knock-on effect has been an increase in microchipping for cats of up to 62%. Compulsory or cool, more and more cat owners are recognising the benefits of microchipping for themselves, for cat breeders, cat re-homing charities and, of course, for their cats too.