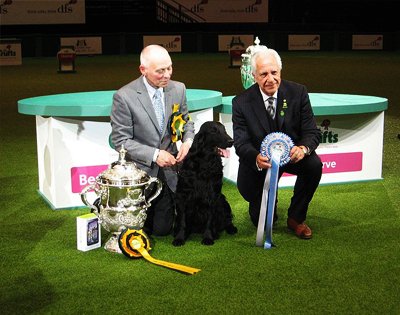 Constitute a Powerful Lever for Change
As significant an event as the Boat Race, Grand National, Trooping of the Colours and The FA Cup Final, Crufts Dog Show has become embedded in British National Culture.
Founded by pet food marketing genius, Charles Cruft, The Kennel Club's flagship – and the world's largest – canine showcase has established a leading role in raising the standards for breed health and welfare in dogs.
First 'all-breeds' dog show
Joining Spratts Patent Company Ltd at the age of 14, Charles Cruft showed great flair and imagination as a salesman for the company which, in the 1860s, made everything from lightning rods to dog biscuits. Cruft's idea of using dog shows to excite the imagination, and attract public attention to Spratt'sproducts, became reality in his first 'all-breeds' dog show at the Royal Agricultural Halls in 1891.
Dubiously pitched as 'the biggest dog show in the world', the first Crufts attracted an alleged 2,437 entries. The 22,000 to 24,000 dogs showing over today's 4-day event, is evidence of the show's phenomenal growth. In 1939, the organisation of the show passed from Cruft's second wife and widow, Emma Cruft to The Kennel Club.
Evidence from breeders and experts in genetics
In 2010, The Kennel Club together with Dogs Trust jointly funded an enquiry by Sir Patrick Bateson FRS into the effects of dog breeding on dog health and welfare. The Inquiry took evidence from breeders and experts in genetics as well as from animal welfare and veterinary professionals. The work of the Cambridge University-based team included visiting dog shows.
In the conclusions to his inquiry, Sir Patrick said that he was "persuaded that showing and judging [dogs] constitute a powerful lever for change". Acknowledging that judging at shows cannot be an exact science, Sir Patrick proposed that shows such as Crufts could become a mechanism for rewarding excellence and educating both breeders and show-goers.
Proposals included educating owners and prospective owners
The inquiry featured contributions by The Royal College of Veterinary Surgeons (RCVS) and the British Veterinary (BVA) aimed at preventing extreme breeding problems before they occurred. Proposals included educating owners and prospective owners to change their preferences and expectations of breed characteristics and buy only from accredited dog breeders.
Sir Patrick suggested that making these improvements could be especially successful if dog show judges picked up on specific health or welfare problems – such as difficulties with movement or breathing – in particular breeds of dog.
The Legacy left by Charles Cruft is more than just another date on the national calendar. Crufts Dog Show is a positive and ongoing contribution to progress in the breeding health, welfare and veterinary care of dogs worldwide.
To find out more about our large range of veterinary diagnostic test kits visit our website: www.vetlabsupplies.co.uk or Telephone: 01798 874567