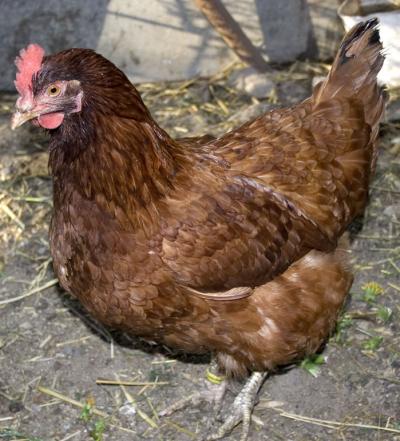 Chickens as Companion Animals
The chicken (Gallus gallus) we love to eat can trace its relatively short ancestry back to the Red Junglefowl of south-east Asia, with a smattering other similar junglefowl species helpfully bred into its genetic mix. The birds were first domesticated for their bright feathers, fighting prowess and watchfulness around 7000 years ago. It wasn't until after WWII that chickens were meaty enough to compete with beef, pork and lamb became widely available on the nation's dinner plate. Today, Farmer's Weekly estimates that the British poultry sector contributes £3billion annually to the UK economy.
Intensively Reared for Meat and Eggs
By far the largest proportion of the UK chicken flock is intensively reared for meat and eggs. In the UK, the health and welfare of the British meat chicken flock are underpinned by the Animal Welfare Act 2006 and, in particular, The Welfare of Farmed Animals (England) Regulations 2007.
Along with all captive flocks and herds, chickens bred for meat must be reared and housed in compliance with the Five Freedoms. These are spelt out in the Code of Recommendations for The Welfare of Livestock and summarised as: freedom from hunger and thirst, freedom from discomfort, freedom from pain, injury or disease, freedom to express normal behaviour and freedom from fear and distress. Responsibility falls on the livestock keepers who are required to be trained, competent, knowledgeable and, perhaps most importantly, self-motivated.
Veterinary Guidance is Essential
The Code recognises the importance of veterinary involvement in maintaining the standards of animal welfare envisaged in the 2006 Animal Welfare Act. Veterinary guidance is essential to the formulation of effective health and welfare policy, comprehensive record keeping, and maintaining a preventative programme of vaccination and veterinary diagnostic testing, especially for avian influenza, chlamydiosis and salmonella.
For some enthusiastic chicken keepers, the domestication cycle has turned full circle, with small numbers of birds being kept for their aesthetic rather than economic value. The 2016 Pet Population Survey, carried out by The Pet Food Manufacturer's Association, estimated the UK's pet poultry population to be around 500,000 birds – a little higher than the number of hamsters, and lower than guinea pigs or rabbits.
Companion chickens certainly enjoy a higher standard of living than commercial birds, and many are 'rescue birds have outlived their economic usefulness. Chickens may not be the new dogs (8.5million) or cats (7.5million), but look set to become as welcome on the patio as they have been on the plate.
To find out more about our large range of veterinary diagnostic test kits visit our website: www.vetlabsupplies.co.uk or Telephone: 01798 874567