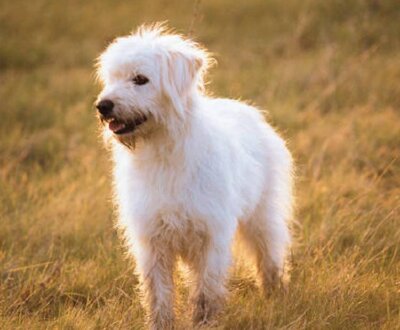 To mark its 125th anniversary, UK re-homing charity The Dogs Trust got gardening with award-winning designer Paul Hervey-Brooks to give the RHS Hampton Court Flower Show a truly dog friendly garden.
In their 'A Dog's Life' garden, The Dogs Trust included water features for splashing in, earth for digging in, shady trees for resting under and winding paths for sniffing along with purpose. By following the principles of 'A Dog's Life' design, you too can create a delightful place to spend summer days outside with your dog.
Dogs need space to exercise their legs and check out what's new
Dogs need space and love smells so they can follow their noses and exercise their legs as they check out what's new and what's happening. Open space doesn't have to be grass, it can be pebbles, bark chippings or other loose material your dog can explore – especially if you hide favourite toys or treats where they can be sniffed out or dug up.
Look at your garden from your dog's point of view
Make two or three separate areas linked by pathways or short but wide tunnels – if you find your garden layout interesting, your dog will too. Look at your garden from your dog's point of view. See what they enjoy doing and make space for them to do it.
Different levels mean your dog can get up off the ground and enjoy the view or just find a place to rest. A bench is all you need especially with the added comfort of a well-loved bed or blanket. And on hot and sunny days, be sure to offer a place to rest in the shade with plenty of clean and cool drinking water.
Secure your garden's boundaries
Secure your garden's boundaries especially where your dog might get injured trying to go through or over a hedge or fence. Check for any fierce thorns, projecting woodwork or breakable glass such as cloches or cold-frames.
Keep your garden disease free by cleaning up poop as soon as it appears. Clear up any uneaten treats or abandoned toys and keep an eye on the weather while your dog is outside; avoid exposure to the excesses of summer sun… and rain!
Finally, watch out for unwanted guests left by other animals visiting your garden. If you think your dog has picked up a parasite such as fleas, worms, or an infection carried by ticks, consult your vet right away. Veterinary diagnostic tests will help your vet design the best dog-friendly treatment and put your summer holiday pal back on the garden path to full health and happiness.