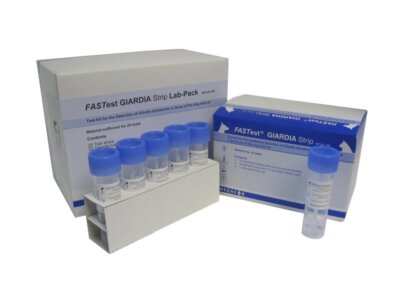 Diagnosis Needs This Test
New research reveals how the Giardia parasite causes intestinal tissue damage that allows other pathogens to flourish. However, the symptoms of giardiasis in animals (and humans) are not necessarily confirmatory. For vets, monoclonal antibody-mediated diagnostic Giardia test kits provide rapid, accurate detection both the active disease (trophozoite) and the carrier state (cyst).
The Giardia Parasite is One of Animal Health's Oldest Enemies
The flagellated protozoan responsible for giardiasis is among the first microorganisms to be visually recognised by early day microbiologists. The motile, trophozoite, form of the Giardia parasite was first observed in 1681 by pioneer microscopist Antonie van Leeuwenhoek from stools of his own diarrhoea.
Named in 1882 to honour of Professor Alfred Mathieu Giard, the genus includes G.lamblia (also known as G.intestinalis and G.duodenalis) infecting humans and other mammals, together with G.ardeae and G.psittaci specific to birds, G.agilis to amphibians, and G.microti to voles.
Giardia Poses a Zoonotic Infection Risk to Human Health
Giardia parasites represent a zoonotic risk, meaning that the infection can spread from animals to humans. In May 2018, Public Health England reported increasing Giardia infection in England and Wales from just over 3,600 cases in 2013 to almost 4,500 thousand in 2016.
The report largely attributed the rise in observed infection rates to the increased use of immunological diagnostic methods. The effectiveness of such methodology underlines the case for the specific monoclonal antibody-based techniques of Giardia.spp diagnostic testing.
Symptoms Alone May Not Be Diagnostic of Giardiasis
In January 2018, researchers at the University of East Anglia uncovered the pathology underlying the symptoms of Giardiasis. Published in the journal Gigascience, UEA scientists describe how the active parasite produces 'copy-cat' human Tenascin proteins.
Tenascins balance the need for cells to stick together or break apart during tissue repair and wound healing. Excess Tenascins, due to Giardia infection, upset this balance causing the cells that line the intestine to break apart and release nutrients, which other gut bacteria exploit as food.
The waste and toxins produced by these other organisms cause symptoms including diarrhoea, flatulence, light stools, abdominal pain, nausea and dehydration; symptoms in common with other mammalian diseases and infections.
Giardia Diagnostic Testing Relies on Monoclonal Antibodies
Spread through faeces contaminated water, and a particular danger to young, infirm and immunologically challenged animals, diagnosing Giardiasis requires accurate diagnostic testing as well as expert recognition of symptoms.
FASTest Giardia Strip is instantly ready for use and stores at room temperature for up to 18 months. Precise and specific monoclonal antibodies detect both the trophozoite and cyst antigen to provide a clear-cut diagnosis in minutes through a simple 2-step process.
For further information about the FASTest Giardia Veterinary Kit: Contact Vetlab Supplies on 01798 874567 or visit our website www.vetlabsupplies.co.uk