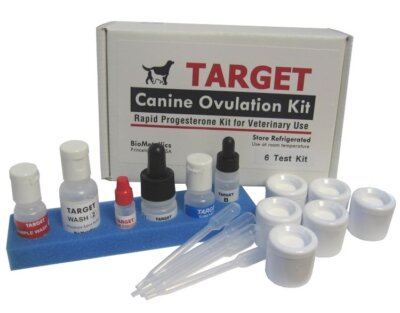 Predicting The Right Time to Mate – Target Canine Cytology Kit
Dramatically improve your reproduction reputation with the TARGET Canine Ovulation Diagnostic Test Kit. Relying on visual signs of heat, like vulval swelling and bleeding and flagging, can get you close to a bitch's perfect breeding day(s). Analysing vaginal cytology microscopically can get you closer. Combining these clues with progesterone levels is the gold standard for predicting ovulation and finding the perfect day(s). The TARGET Canine Ovulation Test Kit measures progesterone quickly and accurately. You will never have to send blood off to a lab for progesterone levels again, waiting valuable days, and missing the bitch's perfect day(s). Multiple progesterone levels are often necessary. The test kit comes with the ability to run six different progesterone levels.
Simple Procedure – 6 Individual Diagnostic Test Kits
The TARGET Canine Ovulation Test strips are a rapid semi-quantitative ELISA test that gives you results in your practice in just minutes. It is extremely easy to run. The results are easy to read as well. Detailed instructions come with the kit, including an encompassing review of reproduction: LH surge and progesterone rising at the same time, ovulation occurring approximately 2 days after the initial rise in progesterone, etc. It is ideal to avoid feeding the bitch for about 8 hours before drawing blood to avoid a lipaemic sample.
Cytology Ovulation Testing to Increase Breeding Success
Another time in a bitch's heat cycle where measuring progesterone levels comes in handy is near the end of her pregnancy. By using the kit and measuring progesterone levels (along with breeding days and signs like a drop in rectal temperature), you can better plan for a Caesarian section since progesterone levels drop 2-3 days before whelping. There is little doubt that this kit will help you increase your success in conception and litter size, making you and your client exceedingly satisfied. The cytology test kit is very reasonably priced, saving you and your client valuable money.