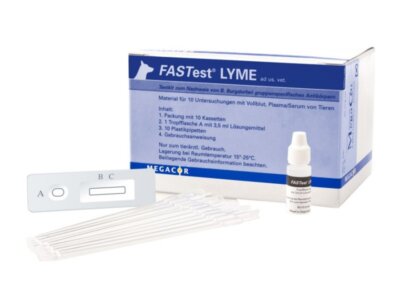 Increasing Levels Of Lyme Disease
Interestingly, there has been a considerable amount of publicity about recent and forthcoming campaigns to raise the awareness of tick-borne diseases such as Lyme Disease. In one recent article written by Joanne Cregg MVB for Veterinary Today magazine, she expresses her deep concerns about this issue, and argues that health professionals and vets should do more should do more to promote and educate on the dangers of tick bites and disease transmission. Concerns have been raised that recently reported case figures could be vastly underestimated.
Veterinary In-House Diagnostic Test Kits – Fast Results
This is such an important issue; particularly at this time of year when tick numbers increase and veterinarians are advising pet and livestock owners on the dangers of tick infestation. There are preventative protocols and treatments for at-risk animals; however, there is a distinct lack of information about in-house diagnostic test kits that are available for the veterinary market. Sending samples out to commercial laboratories can be time consuming and expensive. FASTest Lyme and FASTest BOR-in-Tick in-house tests kits both produce results in less than 15 minutes enabling the veterinarian to give the necessary advice and implement a treatment programme quickly.
Testing High-Risk Animals
One of the most important recommendations is that ticks should be controlled on pets in an endeavour to prevent humans from contracting Lyme Disease. Pet owners may not be aware that their animal has ticks, and spotting the ticks can be extremely difficult as they are tiny during the early stage of life and therefore are very difficult to see; particularly if the dog is long haired or shaggy! It doesn't take long for an infected tick to transmit the disease, only 24 – 48 hours.
FASTest Diagnostic Test kits Available For The Veterinary Market
FASTest Lyme is an in-house test for the detection of Borrelia burgdorferi IgG antibodies in the anti-coagulated whole blood, serum or plasma of infected dogs. These kits are stored at room temperature, instantly available for use and have a long shelf life of typically 18 months. The test is based on the lateral flow principle offering exceptionally reliable clinical diagnostics, along with a simple test procedure and results in 15 minutes.
FASTest BOR-in-Tick is a rapid immunochromatographic assay for the detection of Borrelia Antigens in the TICK. In the case of a positive test result, therapeutic and prophylactic measures can be initiated immediately after a tick bite. Once again, these kits are stored at room temperature, instantly available for use and have a long shelf life of typically 18 months. Vetlab Supplies have over 40 diagnostic test kits available for the veterinary market; a wealth of experience in this field, and offer very reliable and reasonably priced veterinary supplies. Inquire today for more information.
To find out more about our large range of veterinary diagnostic test kits visit our website: www.vetlabsupplies.co.uk or Telephone: 01798 874567