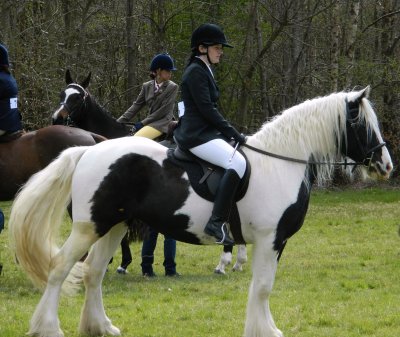 A survey of horse owners at the 2017 Royal Welsh Show found that better awareness of routine faecal egg counting (FEC) in horses could reduce the need for veterinary treatment.
The UK's county-based agricultural shows are an ideal opportunity for producers, consumers and their suppliers to gather and exchange information toward the improvement animal husbandry, health and welfare.
Unique opportunity to gather information
The Royal Welsh Show, held each July at the Llanelwedd showground in Builth Wells, Powys is among the largest of the county agricultural shows both in the UK and in Europe. The gathering of so many from so far afield provides veterinary laboratory researchers with a unique opportunity to gather real-world information from a wide range of animals and their owners.
At the 2017 Royal Welsh Show, researchers from the Institute of Biological, Environmental and Rural Sciences at Aberystwyth collected faecal samples from 60 horses taking part in the four-day event. Using a commercial faecal egg flotation system they recorded the number of nematode eggs per gram (epg) of faecal matter, and related their findings to monitoring and treatment details supplied by horse owners.
Faecal egg counting in horses at the show revealed detectable nematode infection in 30 (50%) of tests. Almost a third (27%) were scored above the 200 epg baseline generally considered as requiring anti-parasite treatment. Questioning the owners and keepers revealed that, on average, horses received 3 anthelmintic treatments per year, though some received none, and others as many as 6.
18% of owners confessed to irregular FEC testing
Asked about the frequency of faecal egg count analysis, almost a fifth (18%) of owners confessed to irregular and infrequent testing, while only two of the sixty reported a routine approach with repeat testing every eight weeks. The value of FEC monitoring was reflected in the fact that only two of the regularly tested horses returned egg counts above the 200 epg threshold.
Overall, the average egg count of untested horses was more than four times that of animals whose owners committed to routine faecal egg monitoring. The benefit of regular FEC testing was further proven by the researchers' observation that horses not subject to routine FEC analysis were more than 150 per cent more likely to require veterinary treatment.
While the survey strongly suggests that owners are not over-medicating their horses, it also indicates a low level of FEC monitoring in the wider horse-owning community. Researchers from the Institute of Biological, Environmental and Rural Sciences hope that the Royal Welsh Show findings will highlight the crucial role of routine faecal egg counting in horses in equine health and welfare management.
To find out more about our large range of veterinary products visit our website: www.vetlabsupplies.co.uk or Telephone: 01798 874567