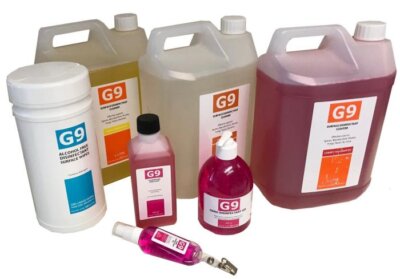 G9 Veterinary Cleaning & Hygiene Range
Joseph Lister's 1860s application of carbolic acid to disinfect and sterilise surgical instruments, incisions and dressings laid the foundation of modern antiseptic surgery. G9 Veterinary Instrument, Hand and Surface Cleaners continue to provide an advanced response to the problem of animal-to-animal and animal-to-human infection.
Hygiene and Cleanliness In Veterinary Practice
Animals in a weakened or compromised state of health are susceptible to further infection. High levels of hygiene and cleanliness are vital to the safeguarding not only of other animals but also of humans working in or visiting a veterinary practice.
Poor or incomplete cleaning of surfaces, instruments and veterinary equipment can leave residual populations of infective agents. Having survived ineffective cleansing, residual agents may evolve an ongoing tolerance or even resistance to those cleaning regimes.
Cleanliness and Hygiene Is Fundamental To RCVS Accreditation
The UK Royal College of Veterinary Surgeon's Core Standards requires veterinary practices to comply with 'minimum standards of cleanliness and hygiene' at all levels of accreditation.
General practices are expected to meet these standards and to keep their premises 'clean and well maintained'. Veterinary Hospitals must achieve these standards and to submit to a rigorous examination of its facilities with emphasis on cleanliness and sterility.
Government bodies such as DEFRA, Local Authorities and organisations including the British Equine Federation further require their license holders and members to take all reasonable precautions to prevent and control the spread infectious diseases, pathogens and parasites among their animals and people.
Maintenance Of Hygiene And Cleanliness In Veterinary Facilities
Key to maintaining high standards of infection control, and to minimise the infection risk to animals and to humans, is the removal of the potential for the sharing or transfer of infected or infectious material.
Any residual organic material, including blood, mucous, tissue, urine and even hair has the potential to harbour and transfer pathogenic parasites, bacteria, viruses, fungi and viable spores.
Contaminated laboratory disposables can be easily removed from the veterinary environment and safely destroyed. Laboratory clothing may be disposable or decontaminated by specialist launderers. Surfaces such as treatment tables, and reusable equipment, however, generally require on-site decontamination.
Cleaning and Sterilisation of Laboratory and Surgery Surfaces
Standards for effective surface cleaning and sterilisation fluids are given by DEFRA in conformity with the Biocidal Products Directive (BPD) issued by The Health and Safety Executive (HSE). G9 Surface Disinfectant Cleaner meets the DEFRA 'General Orders' standard and accredited European Chemical Agency (ECHA) Veterinary test standards. Effective at an economical 1 in 100 dilution, G9 Surface Disinfectant Cleaner is proven against a broad spectrum of pathogens:
Bacteria: including Mycobacteria, Pseudomonas aeruginosa, Staphylococcus aureas, Enterococcus hirae, Proteus Vulgaris, MRSA, Escherichia coli, Bordetella bronchiseptica, Campylobacter jejuni, Salmonella typhimurium, Listeria monocytogenes, Rhodococcus equi, Streptococcus equi, Acinetobacter baumanni.
Spores: including those of Bacillus subtilis and Clostridium difficile.
Viruses: including Bovine Enterovirus, Canine parvovirus, Feline calicivirus, Adenovirus 5, Murine norovirus.
Fungi and Yeast: including Aspergillus brasiliensis and Candida albicans.
G9 Alcohol Free Disinfectant Wipes
For convenience and speed of use, G9 Disinfectant Alcohol Free Wipes are proven effective in 30 seconds against Pseudomonas aeruginosa and E-coli, and against Candida albicans, Aspergillus niger in 60 seconds. In addition, with a shelf life of 2 years, G9 Wipes are applicable to all medical, laboratory and veterinary areas including kennels, reception areas and surface disinfection of large equipment.
Hand Hygiene In Practices and Animal Facilities
Skin disinfection is essential for practitioners moving between animals, between animals and people or just between potentially infected environments.
G9 Chlorhexidine Hand Scrub and G9 Alcohol Hand Disinfectant Gels contain a unique blend of chlorhexidine digluconate effective against bacteria, yeast and micro-organisms. The inclusion of moisturisers prevent drying of the skin through frequent use and provide protection where the time available for hand cleansing and drying is limited.
Laboratory Equipment and Instrument Sterilisation
G9 Instrument Cleaners & Disinfectants effectively digest away proteinaceous and organic material including blood, mucus, faecal and vomited matter from the surface of instruments and endoscopes.
Suitable for use in soak baths, ultrasonic cleaning machines and automated processors, G9 Instrument Disinfectant contains no harmful glutaraldehyde, phenols, chlorine or peracetic acid and is 100% biodegradable.
G9 Veterinary Instrument, Hand and Surface Cleaners provide the reliable, comprehensive and economical solution to the potential risks of animal-to-animal and animal-to-human infection.
For further information visit our website www.vetlabsupplies.co.uk or telephone us: 01798 874567