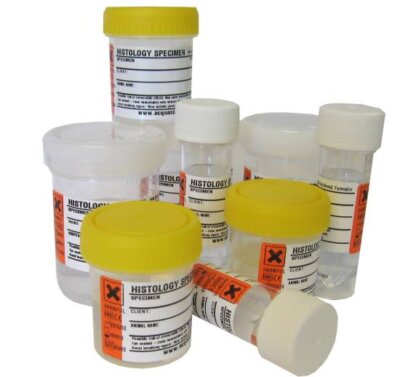 Veterinary Diagnostic Laboratories are key contributors to the quality of care given by veterinary practices and surgeries. What should you look for in choosing the vet lab to analyse your samples?
Range of Services
A complete diagnostic lab will offer a spectrum of diagnostic services, including haematology, biochemistry, microbiology, parasitology and post-mortem pathology. There will be an overlap in the range of vet laboratory equipment necessary for these services; such as with centrifuges, and microscopes, but there'll also be a requirement for some specialist apparatus.
Check your vet laboratory offers the range of services you need and that they can deliver your results in the time-frame that meets your needs.
Communication
Diagnostic reports need to clear, concise, accurate and unambiguous. The results of diagnostic testing will be a critical piece of evidence in the design of a treatment or procedure. If a report can't be understood on first reading, then time will be lost and an animal's welfare may be put at risk.
Ask to see a few sample reports and check that what they appear to say is what they mean to say.
Accreditation
A quality diagnostic service ought to be able to prove its competence with certificates of accreditation. ISO 17025 is the key quality standard for testing and diagnostic laboratories. The standard assures clients of a testing facility's management, proficiency, competence, methodology and calibration.
Look for evidence of accreditation on your lab's paperwork and website. If you're not sure, contact UKAS, the United Kingdom Accreditation Service or your professional veterinary organisation.
Sample Submission and Reception
However good a testing laboratory might, ultimately it's only as good as the quality of the samples submitted for testing. If you're sending samples to a veterinary laboratory, make sure you're familiar with their sample reception and handling protocols.
Choose the correct blood tubes or pathology containers for your samples. Make sure they contain the appropriate preservatives or meet the necessary storage and transport requirements. Track your samples so you can prove continuity, and make sure your sample will arrive at the lab during its normal opening hours.