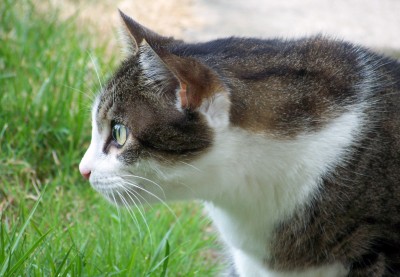 How Toxoplasma Makes Infection More Likely
Toxoplasmosis in cats is caused by infection with the single-celled organism Toxoplasma gondii. Manifesting itself in symptoms including anorexia, weight loss, lethargy, vomiting, jaundice and difficulty breathing, infection is diagnosed by the detection of T.gondii IgG antibodies.
The Parasite That Plays Cat and Mouse
Passed from the cat in its faeces, the eggs (oocysts) of T.gondii are inadvertently ingested by a 'secondary host' – such as a rat or mouse, 'hatching' to form large numbers of cysts in the animal's muscle and nervous tissues. To complete its life-cycle, the immature parasite must get back into the primary host. This can only happen if the hapless secondary carrier is caught and eaten by a predatory cat.
Natural selection has equipped rodents with an acute sense of smell and the behavioural response to avoid anything that smells of cat. Current research indicates that the Toxoplasma parasite actually stacks the odds of survival against its secondary host and in favour of the cat getting its dinner – and re-infection with toxoplasmosis.
T.gondii Infected Mice Lose Their Fear of Cats
Controlled tests indicate that laboratory-bred rodents infected with Toxoplasma gondii can lose their fear of cats. Tests have shown that this response isn't simply a reduction in sensitivity to the smell of cats, the parasite is apparently modifying the rodent's behaviour increases the likelihood of its getting found, caught and eaten.
Rather than running from its nemesis, behavioural scientists have witnessed T.gondii infected animals courting disaster by cavorting in the presence of cat urine, rather than heading for the safety of the nearest hole.
The Fine Art of Behavioural Manipulation
Research shows that there is a careful balance. Although the infected rodents show a reduced fear of weak cat-urine smells, stronger smells override their faux courage allowing their instinct for self-preservation to take over. This finding suggests the parasite itself has evolved to exert just the right level of behavioural manipulation over its unfortunate secondary host.
Diagnostic Testing Protects Unborn Kittens from Toxoplasmosis
The animal welfare issue of Toxoplasma infection in cats is magnified in cat breeding centres and catteries. T.gondii not only infects adult cats, but it can also infect unborn kittens while still in the womb. Infected kittens may be stillborn or die even before weaning; survivors may be seriously weakened, show a lack of appetite, fever, dyspnoea or jaundice.
FASTest Toxoplasma-g provides vets serving catteries and cat breeders with a reliable veterinary diagnostic test for Toxoplasma gondii. Ready for instant use, the easy to use test kit stores at room temperature and gives a clear cut immunochromatographic response in 15 minutes.
To find out more about our large range of veterinary diagnostic test kits visit our website: www.vetlabsupplies.co.uk or Telephone: 01798 874567