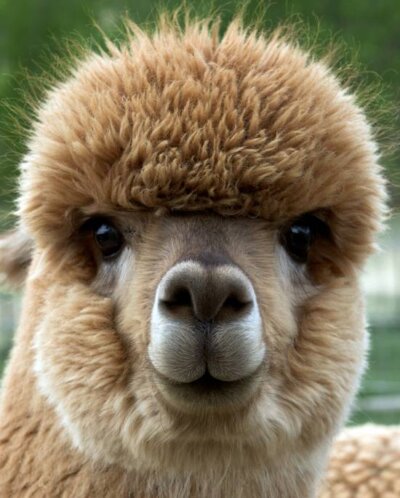 Graham Duncanson, BVSc, MSc(VetGP), DProf, FRCVS, recently wrote an article for Veterinary Practice, which included top tips for your first alpaca consult.
It's a great article and covers many aspects of caring for alpacas. Interestingly, part of the article covers worming and that the SCOPS principles (Sustainable Control of Parasites in Sheep – anthelmintic resistance) also apply to alpacas. Faecal worm egg counts are very important to monitor the stock and it has been stressed to alpaca owners that individual samples should be provided, rather than random mixed samples.
THE BARBERS-POLE WORM, HAEMONCHUS CONTORTUS
Post-treatment FECs are useful to look for resistance but there is one very dangerous worm for alpacas which can cause death before the adults start to lay eggs, the barbers-pole worm, Haemonchus contortus. In this case, faecal worm egg counts will be misleading; however, looking at gum colour is very helpful as white gums indicate severe anaemia which is likely to be caused by Haemonchus.
OTHER COMMON WORMS
Alpacas are affected by liver fluke Fasciola hepatica, normally chronic in cattle; Coccidia (especially Emeria Maculensis) affects young alpacas and as for mange, Chorioptes spp, well that's the most common mange mite to affect alpacas.
FLOTATION SOLUTIONS FOR ALPACA FECS
The most inexpensive and accurate method of faeces examination for internal parasite eggs uses a special faecal flotation solution made up to a Specific Gravity of 1.27. This is a very important specification to ensure the oocysts of Emeria Maculensis are detected. The best flotation solutions are made from either Sodium Nitrate or Zinc Sulphate. Vetlab's bespoke ready-made faecal flotation solutions will save you time, hassle and mess, ensuring that you have the exact specific gravity for your particular needs. Remember that different parasites require solutions of different specific gravity to ensure you get the right results! Vetlab Supplies also supply Ovatube (parasite detection), Microscopes and a large range of Veterinary Consumables.
NEVER KISS AN ALPACA!
Graham Duncanson clearly knows his alpacas and has written a book that's a must purchase for any llama or alpaca owners and practitioners. Titled; Veterinary Treatments of Llamas and Alpacas, which is focused on animals in the UK.
Finally, never forgetting that alpacas can contract bovine tuberculosis…Graham's final piece of advice is: never kiss an alpaca!
To find out more about our large range of veterinary diagnostic test kits visit our website: www.vetlabsupplies.co.uk or Telephone: 01798 874567