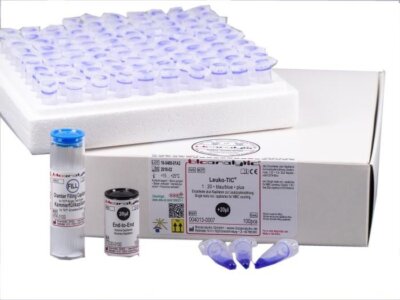 Cell Counting Systems, TIC All the Boxes for Single Cell Testing
Time and resource-conscious veterinary laboratories need a precise and convenient cell counting system that's reliable and simple to use. Bioanalytics GmbH TIC® Single Cell Counting System provides a complete, ready to use disposable system with a long shelf-life that's suitable for both experienced and student veterinary microscopists.
Counting Single Cell Types In A Range Of Species
Veterinary laboratories are often required to examine mammalian, reptilian and avian body fluid samples for general counts of red cells or white blood cells, or provide particular assessments of eosinophil, leukocyte, reticulocyte or thrombocyte numbers.
In the hands of experienced veterinary laboratory professionals, manual cell counting is generally accepted as the most reliable and precise estimation of total cell count in a sample of blood, synovial or other body fluid. Equipped with this well designed TIC® cell counting kit and an easy to use cell counting microscope, new and experienced operators can return equally precise total cell count figures.
Ready to Use Cell Counting Kits With A Long Shelf-Life
Ideally, the cell counting system of choice will be ready for immediate use when required, have a long shelf-life with minimal storage requirements, and include all of the reagents and materials required to sample, process and assess the specified cell type.
Each TIC® Full Kit provides sufficient reagents and consumables for 100 analyses tailored to the precise counting of one specific cell type.  For the convenience of frequent users, full kits include 100 disposable End-to-End glass capillary tubes and 100 Chamber Filling Capillaries.
Accurate Dilution Factors and Specific Cell Staining
Capillary collection tubes provide a safe, simple and economical means of collecting a precise volume of blood or other fluid. The filled tube can then be placed directly into the relevant single cell-type tube.
Pre-filled tubes ensure the correct dilution factor and consequent cell count accuracy. Each TIC® cell-type specific kit includes the relevant cell-specific stain premixed with the correct measured volume of diluent.
Precision and Practicality through Disposable Counting Chambers
Counting cells is made simple and reliable with disposable Bioanalytics glass Cell Counting Chambers. High-quality glass counting chambers provide superior performance compared to plastic chambers thanks to their shrinkage resistance, decreased risk of overfilling and reduced sample evaporation without resorting to humidity chambers.

From the point of view of the busy veterinary laboratory manager, an important time-saving feature of the TIC® cell counting kit is the safely disposable nature of Bioanalytics glass Cell Counting Slides.
This feature not only removes the need for time-consuming washing, cleaning and storage of used materials but guarantees that each and every cell count is performed with the same high standard of first-use materials and reagents.
For further information or contact us on Tel: 01798 874567 and we will be delighted to help.