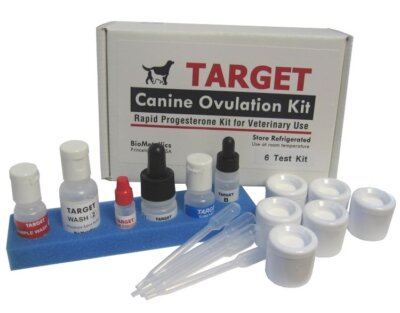 Test Kit Keeps Dog Breeders on TARGET
TARGET Canine Ovulation Timing Kit equips breeders with a simple, reliable test to predict the best time for mating or insemination maximising the efficiency of their facilities, and protecting the health of their breeding bitches.
Planned Pregnancies Enhance Breeding Health and Efficiency
Managing a healthy and efficient puppy breeding programme depends on the ability to find the time of mating or insemination most likely to result in pregnancy.
Planned pregnancies mean litters of pups can be timed to match resources and avoiding unwanted, wasteful pregnancies that might threaten a bitch's breeding health.
Reliably Targetting the Best Breeding Dates
In the past, dog breeders have relied solely on the visible signs of a bitch's readiness to breed. These physical indications are only an approximate indication of the best time for mating or insemination.
For today's breeding kennels, the support of a more scientific and reliable method of predicting the best time to initiate breeding is available in the TARGET Canine Ovulation Timing Kit.
Rising Progesterone Indicates Breeding Readiness
By experience, breeders are familiar with the early signs of 'coming into heat' (oestrus) indicating that the bitch's womb (uterus) is being prepared to receive and nurture her embryo pups.
Preparation of the womb lining (endometrium) is triggered by rising levels of the hormone progesterone in the bitch's blood. Rising progesterone levels indicate that the bitch's ovaries are primed and ready to release eggs (ovulation) for fertilisation by a male's sperm from mating or insemination.
Supporting Breeders with Scientific Reliability
Testing for rising progesterone in blood serum, from a bitch showing early signs of heat, gives breeders a more certain prediction for ovulation, best dates mating and likely delivery of her litter.
The TARGET Canine Ovulation Timing Kit provides a simple, rapid, progesterone monitoring test to determine the days most likely to result in a successful mating or insemination.
Rapid and Reliable Colour Change Test
Serum samples for TARGET progesterone testing are simply prepared from a blood sample using a veterinary laboratory centrifuge. The whole testing procedure is completed on the kit's convenient sample disc using the reagents supplied and in less than ten minutes.
The deep blue colour reaction, indicating little or no progesterone present, clearly distinguishes the negative result from the colourless positive response revealing the high hormone level necessary to successful, immediate mating.
Two Further Hormone Test Kits Help Breeders for Success
TARGET Canine Ovulation Test is one of three veterinary diagnostic test kits supporting vets, breeders and animal charities. FASTest LH monitors changing Luteinising Hormone (LH) levels as a further method of determining the best time to mate, while FASTest RELAXIN helps confirm that a bitch is pregnant or exclude a false or pseudo-pregnancy.
To find out more about this range of veterinary diagnostic test kits visit our website www.vetlab supplies.co.uk or Telephone us: 01798 874567