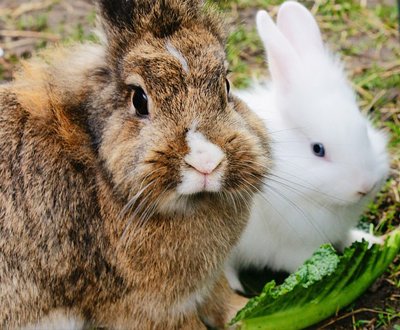 When it comes to publicising pet care, cats and dogs get much more attention than smaller pets – especially when it comes to internal parasites and external parasites in pet rabbits.
That's why June sees another concerted effort by a partnership of animal charities and commercial sponsors to raise owners' awareness of the health, hygiene and dietary needs of pet rabbits.
The focus, as with all pet care initiatives is on what owners can do themselves to enhance the wellbeing and welfare of their pet rabbit. As the campaign title suggests 'RAW' is the key to a happy healthy rabbit.
Rabbits can't get the nutrition they need merely from their bedding straw alone
In a world with more and more pre-processed, pre-packaged food for their owners, Britain's 1.5 million pet rabbits are getting less and less fresh, raw food in their diets. Reduced to the equivalent of eating the furniture, rabbits can't get the nutrition they need merely from their bedding straw alone.
The essential message of RAW is that owners must understand the needs of their pets. Bedding straw is not the same as hay – and rabbits must eat enough fresh hay and grass to stay healthy.
Experts in rabbit nutrition recommend a diet that's 90% fresh hay and grass. Yet animal charity PDSA estimates that less than 1 in 3 British pet rabbits have a constant supply of fresh hay.
Rabbits that don't get enough fresh hay and grass risk suffering dental, digestive and even emotional problems such as boredom and stress.
Health and behaviour tends not be so quickly noticed
Unlike indoor dogs and cats, adverse changes in a rabbit's health and behaviour tends not be so quickly noticed – maybe because most rabbits live outside in a hutch rather than inside in the house.
Rabbits also seem less likely to make routine visits to the vet than dogs and cats. Yet they need the same expert attention, especially when it comes to the internal parasite and external parasites that can make their lives miserable.
Internal parasitic worms – such as roundworm, reduce the nutrition your rabbit gets from even a recommended RAW diet. Heavy worm infestations might even block the movement of food through your rabbit's digestive system.
Untreated external parasites such as ringworm – which is a skin and fur destroying fungus, will leave your pet with unsightly bare patches open to further infection.
Your vet will have the veterinary diagnostic kits and veterinary laboratory supplies to detect ringworm and identify internal parasites. With a sure diagnose and an early start to treatment, your pet rabbit will be back on its way hopping along to health and happiness in the hutch.