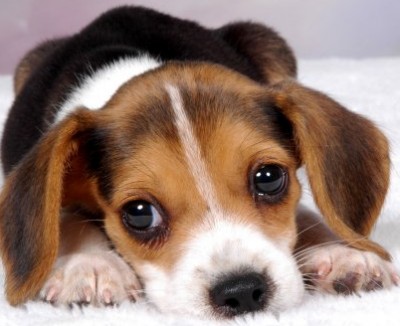 Britain's best-loved pet dogs get the protection of immunisation against distemper, parvovirus, adenovirus, leptospira, parainfluenza virus, bordetella and rabies.  Reputable kennels and breeders offer UK dog owners healthy pups with the confidence assured by routine vaccination and canine diagnostic testing.
Not all dogs are so lucky – 120,000 Chernobyl workers fled their homes
When more than 120,000 Chernobyl workers and their families fled their homes following the disastrous 1986 nuclear accident, they left behind everything including their pets.
The 30 kilometres wide exclusion zone established around the wrecked power plant, to protect the human population from radioactive contamination, is home to around 900 descendants of those abandoned dogs and pups.
With the human population excluded, many of the Chernobyl dogs were seen to be suffering from disease and malnutrition. Their poor health posed a risk to the health of the workers arriving to clean up the former power plant.
Vaccinating and neutering the dogs to improve their health
Fortunately for Chernobyl's strays, animal welfare organisation Four Paws in co-operation with US charity Clean Futures Fund have set up shop in the Chernobyl region with the aim of vaccinating and neutering the dogs to improve their health and reduce the population.
Closer to home, and for reasons in no way as dramatic as a nuclear accident, large numbers of UK dogs also experience sudden desertion and abandonment by their owners. According to the canine charity, Dogs Trust, Britain's back-to-school week sees vacation-time 'nanny' dogs dumped onto the charity for re-homing.
Caring for a dog no longer fits the household timetable
In September 2016, Dogs Trust gave sanctuary to 220 'Mary Puppins' dogs, originally bought to keep children entertained during the long summer holidays. Once the holidays end and families return to their normal routine of school runs and office hours, caring for a dog no longer fits the household timetable.
The charity estimates that up to 81,000 dogs are abandoned in Britain each year. Despite the best efforts of the Trust and other dog charities, between April 2015 and March 2016 local authorities were forced to put down 3,463 stray dogs that couldn't be saved.
Dogs are rescued from as far away as Afghanistan
Yet Britain is still one of the world's most dog-friendly societies. Some of the world's most fortunate stray dogs find themselves re-homed with a British dog-loving family through one of 30 dog re-homing charities.  Dogs are rescued from as far away as Afghanistan, but most arrive from Eastern Europe mainly from Bulgaria and Lithuania, but increasingly from Romania.
Whether provided by careful owners or dedicated animal charities, the health and welfare of all dogs – homed and homeless, depends on preventative vaccination and canine diagnostic testing provided by professional vets with their veterinary laboratory in support.
To find out more about our large range of veterinary diagnostic test kits visit our website: www.vetlabsupplies.co.uk or Telephone: 01798 874567