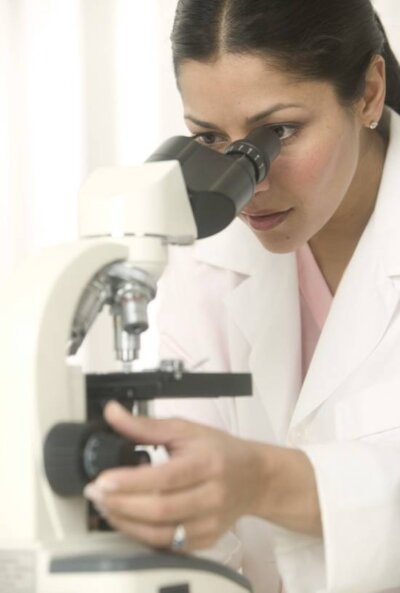 Perfect veterinary microscopy doesn't need an expensive microscope, just the right microscope for your veterinary laboratory.
Identifying a parasite, diagnosing a disease or visualising a histological condition requires a combination of veterinary expertise, skill with an optical microscope and the right microscope for the task. There are many dealers in laboratory microscopes willing to sell you an expensive light microscope, but fewer with the necessary veterinary laboratory experience to advise you on the right instrument for your purpose.
Building evidence for the most appropriate and effective treatment
Specialist veterinary microscopy, used in conjunction with veterinary diagnostic tests, equips the veterinary practitioner with an evidence base on which to build the most appropriate and effective treatment. However, in the real-world, factors of cost, time and client expectation impact on how and when microscopy is employed, whether in the investigation of symptoms or the diagnosis of a pathological condition.
Affordability, ease of use and every-day robustness are every bit as important to the busy vet as high magnification, optical quality, mechanical precision and chromatic accuracy. Veterinary laboratory staff need a microscope that is simple to set up and stable in use whether it's used frequently or only on those rare, but important occasions.
Lab staff are much more likely to get accurate results and precise diagnoses if the instrument has clean, modern lines and conveniently placed controls and adjustments. An efficient-looking piece of equipment attracts good practice in use and inspires confidence in clients who expect to see a well-equipped laboratory.
What to look for in a new veterinary microscope
When considering a new microscope for your diagnostic, research or teaching laboratory there are some key features you need to check on before making such an important purchase.
Make sure your microscope has a binocular head with interchangeable, wide-field eyepieces for fatigue-free operation and a built-in photographic facility. Objective lenses should be specified as achromatic and turret mounted with magnification options of 4X to 40X, the highest being suitable for oil immersion when necessary.
True colour and aberration free illumination
The focusing adjustment should feature coarse and fine control, and the mechanical stage should be vernier-scale calibrated with a spring-loaded slide-retainer. Variable intensity lighting from below the stage should include a field diaphragm and Abbe lens light condenser for true colour and aberration free illumination.
If your veterinary laboratory supplier understands what they – and you, are about, you should be able to get all of this and more in a warranty supported package for somewhere close to just £500.