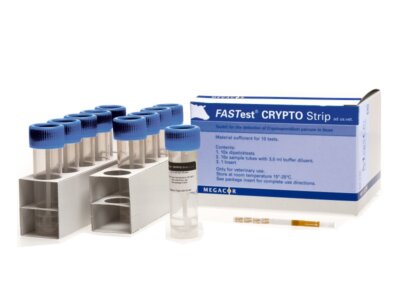 As a busy and caring veterinarian, you want to get as much done in a workday as possible, and this includes providing diagnostic tests when needed. While you certainly want results to come back quickly, you also want them to be accurate, and you want the tests to be affordable. This is why FASTest Diagnostic Tests are the best for your vet practice. Fast, accurate, and affordable are all hallmarks of the FASTest brand.
FASTest Diagnostics
MegaCor Diagnostik GmbH, an Austrian based company that has been providing exceptional test kits for over 25 years, manufactures the FASTest brands of diagnostic tests. As the exclusive distributor of MegaCor FASTest Kits, we have the test kits that your vet practice needs, and we have them at very competitive prices.
How Do they work?
The vast majority of FASTest kits we offer work on the principle of immunochromatography/lateral flow. They can be safely kept at room temperature, and because of their long shelf life, you worry less and spend less. They are very easy to use, and the results are both accurate and reliable.
The product line includes the diagnostic tests that your vet practice requires, and their range covers a variety of needs.
Some products in their range include:
FASTest CRYPTO Strip
FASTest D4T bovine
FASTest BCV
FASTest E.coli-K99
FASTest ROTA
FASTest CRYPTO-GIARDIA
So you can see there are plenty of different options for your practice to choose from, meaning as a busy vet, you don't have to shop around for different brands for each diagnostic test you need to perform.
FASTest Diagnostic Test Kits are so reliable and accurate that they are used in Veterinary Practices, Commercial Laboratories, and Veterinary Colleges. And with their low pricing, they are the smart choice for any vet practice. It is becoming increasingly challenging for vet practices to offer their clients the best in pet health care without charging more than they can afford. This can be especially important in a rural area where cattle and horses are plentiful. When you can buy your test kits for less, you can charge less, and the FASTest brand helps you to do that.
So, the question, why are FASTest Diagnostic Tests are the best for your vet practice, is actually easy to answer: FASTest offer quality products that are reliable, accurate, easy to use, and affordable, allowing you to not only treat and diagnose your patients quickly, but save your practice valuable time.
To find out more about our large range of veterinary diagnostic test kits visit our website: www.vetlabsupplies.co.uk or Telephone: 01798 874567